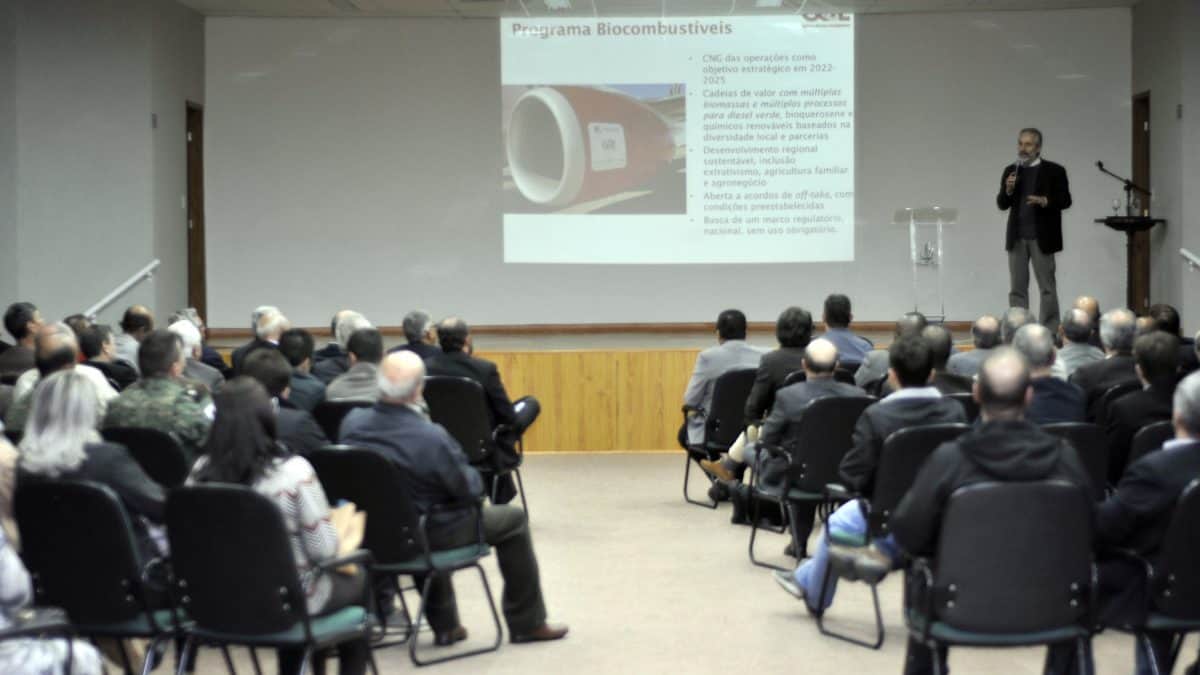 The Plataforma de Bioquerosene e Renováveis da Zona da Mata is to be launched on International Environment Day, June 5th, 2018, in an initiative led by the Municipality of Juiz de Fora together with 45 municipalities of the Zona da Mata region in Minas Gerais, Brazil to implement the first highly integrated value chain, "from research to fly", to produce biofuels that cansupport Greenhouse Gas emissions mitigation for the aviation sector.
This initiative is based on a reforestation effort of native species across 130, 000 hectares of the Brazilian Mata Atlantica Biome, incorporating innovative Circular Economy processes to promote sustainable development in the region.Bringing together key stakeholders from the aviation and heavy transportation segments, the project will produce sustainable "green diesel" and aviation biofuels to supportBrazil'sNationally Determined Contributions (NDCs)targets under the Sustainable Development Goals.
By bringing together the research and development efforts of Aviation and Road Transportation for "green diesel" (HEFA+), the Plataforma de Bioquerosene e Renováveisaims to support collaboration between these sectors to accelerate the introduction of biofuels in order to build a low carbon economy in line with the Paris climate accord.
The Zona da Mata initiative will address the requirements of ICAO's Carbon Offsetting and Reduction Scheme for International Aviation (CORSIA) scheme and the need for biofuel as part of the effort to ensure the long-term sustainability of the aviation industry. The initiative will ensure a supply of biofuel for airports in Southern Brazil, Belo Horizonte (CNF), Rio de Janeiro (GIG) and SDU,  São Paulo (GRU) (CGH), and regional airportsin the Zona da Mata (IZA), as wellas providing "green diesel" for heavy vehicle fleets, including those for urban mobility, mining and agriculture. By incorporating the best-in-class sustainability principles of the Roundtable on Sustainable Biomaterials, the initiative will ensure that social and environmental sustainability and protection is at the foundation of the project.
Quotes:
Municipalities of Zona da Mata
"On this International Environment Day, we are taking a major step towards Global  Sustainability by launching this regional initiative together with UK and key  stakeholders to address the mitigation of GHG emissions of the Transportation segment and meet the Sustainable Development Goals for the prosperity of Zona da Mata" – Mayor Antônio Almas, representing the municipalities of Zona da Mata
United Kingdom
"We are pleased to support the Zona da Mata BioKerosene Platform in Juiz de Fora.  Climate Change is one of the most urgent and important challenges that we are facing today.  The Juiz de Fora BioKerosene Platform is a clear example of how we can contribute to achieve the key goals in combating climate change and mitigation in Brazil. Sustainable biofuels and reforestation can simultaneously promote local economic development. The UK and Brazil are leaders in combatting climatechange and we are confident that working together in this project, we can contribute to achieve a sustainable future." – Simon Wood, Consul General of UK in Rio de Janeiro.
Green Fuels – process technology
"Green Fuels is excited to be part of the Plataforma de Bioquerosene e Renováveis da Zona da Mata, using it's innovate Fuel Maticand SABR biofuel technology to provide significant improvements to the local economy and a positive impact in Brazilian GHG emissions." – James Hygate, CEO Green Fuels.
Susteen Technologies – process technology
"Susteen Technologies is excited to join the Plataforma de Bioquerosene e Renováveis da Zona da Mata to help improve the environment and economy of local communities. With our TCR® technology we can turn biomass residue from their farms into valuable fuels and energy contributing to a sustainable economy where they live." – Thorsten Hornung, CEO, Susteen Technologies
GeoFlorestas – reforesting
"The Plataforma de Bioquerosene de Aviação da Zona da Mata  will be a great driver to foster large-scale reforestation projects for there covery of Permanent Preservation Areas (APPs), Legal Reserves (RL), and degraded pasture lands in the Zona da Mata region, with traceability, safety and transparency of thecarbon sequestration process, while providing sustainable feedstock for the biofuels segment".  – Leandro Aranha, CEO, Geoflorestas
RenewCo-  system integration
"The Proof of Concept of the Zona da Mata Initiative proposes a template distributed biorefinery based on innovative process technologies to convert biomass and residues into renewables, logistically optimized, to produce competitive biofuels for the Transportation Segment. This Zona da Mata template can be replicated globally to contribute to a better world" – Dr. Jose Fernando Contadini, Technical Director, RenewCo.
RSB – The Roundtable on Sustainable Biomaterials: Certification of Sustainability
"Developing a truly sustainable supply chain for alternative aviation fuels requires the expertise and dedication of many participants and it is heartening to see the commitment of so many different partners in Brazil. We are pleased to be able to offer our tools, guidance and expertise in sustainability – from supporting smallholders and stakeholder engagement, to Greenhouse Gas calculations and lifecycle analysis, to distribution – to this partnership and look forward to seeing this project support thesocial, environmental and economic development of Brazil!" – Rolf Hogan, Executive Director, Roundtable on Sustainable Biomaterials. (www.rsb.org)
UBRABIO – Brazilian Association of Biodiesel and Bipojetfuel Producers
"This initiative is the concrete fruition of the combined efforts of UBRABIO, GOL, and Curcas since Rio+20 to implement the biojetfuel and renewables segment in Brazil. We welcome the engagement of Mahle and Bosch in this effort to accelerate the green diesel alternative for the Aviation and the heavy transportation sector" – Pedro Scorza, Biojetfuel Director, UBRABIO
Posts relacionados
Contato
SHIS QL 12, Conjunto 07, Casa 05 - Brasília, DF 71630-275
(61) 2104-4411
faleconosco@ubrabio.com.br